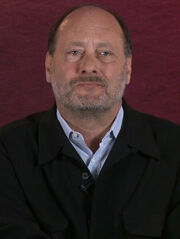 Steve Meerson co-wrote the screenplay for Star Trek IV: The Voyage Home, along with his writing partner, Peter Krikes. They shared screenwriting credit with Harve Bennett and Nicholas Meyer. This was the first film they wrote together.
Meerson and Krikes later wrote for the films Back to the Beach, Double Impact, and Anna and the King.
In 2009 Meerson was interviewed for the special feature "Star Trek: The Three Picture Saga" on the DVD box release of Star Trek: Original Motion Picture Collection alongside Garfield and Judith Reeves-Stevens, Peter Krikes, Harve Bennett, Nicholas Meyer, and Ralph Winter.
External link
Edit
Ad blocker interference detected!
Wikia is a free-to-use site that makes money from advertising. We have a modified experience for viewers using ad blockers

Wikia is not accessible if you've made further modifications. Remove the custom ad blocker rule(s) and the page will load as expected.