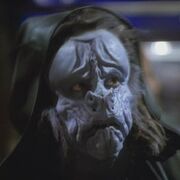 Steve Kehela is the actor who played Sutok in the Star Trek: Voyager episode "Fair Trade".
Kehela has also made appearances on Seinfeld (starring Jason Alexander), The Larry Sanders Show (in an episode guest-starring William Shatner), Cheers (starring Kirstie Alley and guest-starring Sharon Lawrence), Ellen (in an episode with Don Stark and Barry Wiggins), Lois & Clark (starring Teri Hatcher and K Callan and guest-starring Julie Cobb), and Frasier (starring Kelsey Grammer), among other television series. His film credits include The Crazysitter (co-starring Ed Begley, Jr., Sean Whalen, and Christopher Darga), Sgt. Bilko (working with Richard Herd), Edtv (in which he and Googy Gress play reporters), Nutty Professor II: The Klumps (with Nikki Cox and Charles Napier), Dr. Seuss' How the Grinch Stole Christmas (which, like Edtv, also featured Clint Howard), Evolution (with Gregory Itzin, Sarah Silverman, and Jennifer Savidge), and the 2005 remakes Guess Who (also featuring Robert Curtis-Brown) and Fun with Dick and Jane. He was also the voice of the Monstar form of the Nerdluck Blanko in the 1996 feature Space Jam.
External link
Edit
Ad blocker interference detected!
Wikia is a free-to-use site that makes money from advertising. We have a modified experience for viewers using ad blockers

Wikia is not accessible if you've made further modifications. Remove the custom ad blocker rule(s) and the page will load as expected.