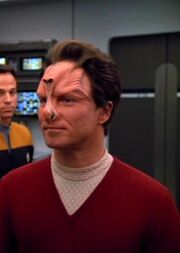 Steth was one of many victims of an unknown lifeform with the ability to switch DNA with humanoids by use of selected DNA exchange. Steth was left with the DNA of a female humanoid, the previous victim, when he encountered this lifeform.
Steth later rescued Tom Paris, now with his original DNA, from the Benthan Guard in the Kotaba Expanse. Together, they made their way to USS Voyager, where they captured the impostor. (VOY: "Vis à Vis")
Ad blocker interference detected!
Wikia is a free-to-use site that makes money from advertising. We have a modified experience for viewers using ad blockers

Wikia is not accessible if you've made further modifications. Remove the custom ad blocker rule(s) and the page will load as expected.