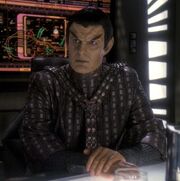 Stephen Yoakam played Velal in two episodes of Star Trek: Deep Space Nine's final season. He played the Romulan sub-commander/general in "When It Rains..." and "The Dogs of War".
Yoakam has starred in films such as the television movie Shattered Innocence (with Dennis Howard and Richard Cox), Overnight Delivery (with Sarah Silverman, Larry Drake, and Bruce Bohne) and Sweet Land (with Tony Papenfuss and Raye Birk). In 2008, Yoakam starred in the film Older Than America.
Yoakam is also well known for narrating productions of Peer Gynt with the Minnesota Orchestra. He has also starred in the stage plays Tamarack, Good Boys, and Who's Afraid of Virginia Wolff?.
External links
Edit
Ad blocker interference detected!
Wikia is a free-to-use site that makes money from advertising. We have a modified experience for viewers using ad blockers

Wikia is not accessible if you've made further modifications. Remove the custom ad blocker rule(s) and the page will load as expected.