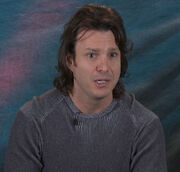 Stephen Michael Manley (born 13 February 1965; age 52) is one of four actors, aside from Leonard Nimoy, who appeared as Spock in Star Trek III: The Search for Spock. The other three are Carl Steven, Vadia Potenza, who subsequently turned to behind-the-scenes work, and Joe W. Davis. More specifically, Manley is the actor who acted out the role of Spock as of the time by which the Genesis planet had regenerated Spock to 17 years of age.
In 2009 Manley was interviewed for the special feature "Spock: The Early Years" on the Star Trek: Original Motion Picture Collection (DVD).
External links
Edit
Ad blocker interference detected!
Wikia is a free-to-use site that makes money from advertising. We have a modified experience for viewers using ad blockers

Wikia is not accessible if you've made further modifications. Remove the custom ad blocker rule(s) and the page will load as expected.