Ad blocker interference detected!
Wikia is a free-to-use site that makes money from advertising. We have a modified experience for viewers using ad blockers

Wikia is not accessible if you've made further modifications. Remove the custom ad blocker rule(s) and the page will load as expected.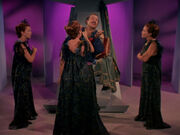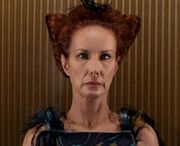 The android known as Stella was created by Harcourt Fenton Mudd in the likeness of his wife Stella Mudd.
When the android Norman allowed Mudd to take over his planet, he made this android copy of his shrewish wife so that he could verbally abuse her at will, much as the real Stella had done to him often during their marriage.
He demonstrated this to James T. Kirk, activating her and then telling her to "Shut up, Stella", a command that caused the android to power down. When Kirk removed the androids from Mudd's control, he left Mudd on the planet with five hundred uncontrollable replicas of Stella as punishment. (TOS: "I, Mudd")