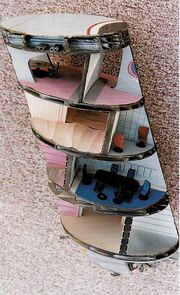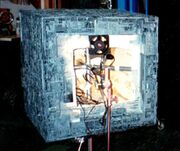 Starlight Effects was a visual effects company based in Los Angeles, California. Established in April 1984 by its owner and operator, Kim Bailey, the company was hired to work on the Star Trek: The Next Generation second season episode "Q Who" when regular studio model vendor, Gregory Jein, Inc., though invited to make a bid, was temporarily unavailable to the television franchise at the time, as the services of that company were secured exclusively by Associates and Ferren to build the models for Star Trek V: The Final Frontier. (American Cinematographer, July 1989, p. 79)
The one-time subcontracting of Starlight Effects notwithstanding, the company's contributions for the generally acclaimed episode were signature ones, entailing the construction of the original Borg cube model in particular, as well as the forced perspective saucer model, and the cross section model. To ease the workload for the effects-laden episode, Baily hired Gene Rizzardi to build the force perspective model, and model maker David Heilman of Science Fiction Modelmaking Associates to help him out with the "Core Sample Model", which took them about three weeks.
The company has only worked on a limited scale for the motion picture industry, and has been better known for its work on contemporary commercials for such brands as for example, Wendy's, Diet Coke, Marlboro, and Track Auto. Bailey closed down his company in January 2002. [1]