Ad blocker interference detected!
Wikia is a free-to-use site that makes money from advertising. We have a modified experience for viewers using ad blockers

Wikia is not accessible if you've made further modifications. Remove the custom ad blocker rule(s) and the page will load as expected.
Starfleet General Orders and Regulations were a series of guidelines used to instruct members of Starfleet on the proper etiquette and policy in a situation that required consultation for a resolution. These protocols were the foundation of Starfleet and the responsibility of its officers to uphold and protect, ranging from all manners of duty, such as interstellar diplomacy to punctuation of reports. Violations of protocol could have led to being placed on report, a court martial, demotion of rank, or other reprimands.
These guidelines' fundamental principles were integral for Starfleet officers to help avoid conflicts of interest, (TNG: "Redemption") including one's duty to the truth. (TNG: "The First Duty") Guidelines were useful in many situations, including when flag officers could not be consulted to resolve a situation. (VOY: "Equinox")
Several of the first one hundred plus Starfleet Orders were used by the United Earth Starfleet prior to the founding of the Federation. (ENT: "Hatchery")
As of 2366, there were no regulations prohibiting the unauthorized recreation of Starfleet personnel on the holodeck. (TNG: "Hollow Pursuits")
Starfleet Charter Articles
Edit
Article 14, Section 31: The exact language has never been cited, but certain lines in this section permitted the use of "extraordinary measures" in times of dire emergency. (

ENT

: "

Divergence

")
Federation Regulations
Edit
Galactic Emergency Procedures
Edit
Title 15 of these procedures allowed ranking Federation officials to assume direct command of Starfleet vessels under certain conditions. (

TOS

: "

The Galileo Seven

")
General Orders
Edit
General Order 1: "No starship may interfere with the normal development of any alien life or society." (

TAS

: "

The Magicks of Megas-Tu

")
General Order 24: An order to destroy all life on an entire planet. This order has been given by Captain Garth (Antos IV) and Captain Kirk (Eminiar VII). On neither occasion was the order actually fulfilled. (

TOS

: "

Whom Gods Destroy

", "

A Taste of Armageddon

")

Garth may have explained the spirit of the order when he suggested he gave the order because "I could say they were actively hostile towards the Federation."
Starfleet Directives
Edit
Directive 010: "Before engaging alien species in battle, any and all attempts to make first contact and achieve nonmilitary resolution must be made." (

VOY

: "

In the Flesh

")
Directive 101: Any individual accused of a crime does not have to answer any questions. (

VOY

: "

Meld

")
Tactical Directive 36: "The captain will not engage a hostile force without the protection of a security officer." (

VOY

: "

Unimatrix Zero

")
Starfleet Orders
Edit
Special Order 66715: Federation order that stated: "[Starfleet has] the authority to neutralize security threats to Deep Space 9 by any means necessary". (

DS9

: "

Inquisition

")
Starfleet Regulations
Edit
Regulation 7 (Paragraph 4): An officer must consider himself under arrest, unless in the presence of the most senior fellow officers presently available, the officers must give satisfactory answer to those charges... (

TOS

: "

The Omega Glory

")
Section 12, Paragraph 4: Related to the captain undertaking command of an away mission. (Star Trek Nemesis)
Regulation 476.9: All away teams must report to the bridge at least once every 24 hours. (

VOY

: "

Once Upon a Time

")
Regulation 619: The commanding officer must relieve themselves of command if their current mission leaves them emotionally compromised and unable to make rational decisions. In 2258 of Nero's alternate reality, when, after the destruction of Vulcan, Spock meets a young James T. Kirk, marooned by this timeline's Spock, before returning him to the USS Enterprise, he tells Kirk to use this in order to take command of the ship, knowing that the conservative course his younger self would take would doom Earth to the same fate as Vulcan, while the unorthodox strategy Kirk would follow just might save it. Kirk succeeded in provoking Spock and he resigned command, but acted as Kirk's first officer afterwards during the Battle of Earth. (Star Trek)
Starfleet Away Team Guidelines
Edit
Medical Emergency on Alien Terrain: "It is recommended to keep an open com-channel at all times." (

VOY

: "

Macrocosm

")
"Specifically forbid the transport of unknown infectious agents onto a starship without establishing containment and eradication protocols." (

VOY

: "

Macrocosm

")
Unnumbered Protocol: Away teams must be composed of more than one crewmember. Both Kathryn Janeway and Lieutenant Commander Tuvok cited this protocol to Seven of Nine when conducting an away mission. (

VOY

: "

Hunters

")
Starfleet Intelligence Procedures
Edit
Starfleet Medical Protocols
Edit
Regulation 121 (Section A): The chief medical officer has the power to relieve an officer or crewman of his or her duties (including one of superior rank) if, in the CMO's professional judgment, the individual is medically unfit, compromised by an alien intelligence (

TNG

: "

Lonely Among Us

"), or otherwise exhibits behavior that indicates seriously impaired judgment. A Starfleet officer can face court martial for failing to submit to such a relief. (

VOY

: "

Year of Hell, Part II

")
Starfleet Privacy Protocols
Edit
Ensign Harry Kim referred to privacy protocols being violated by Lieutenant Commander Tuvok while the latter was investigating into an attack on Ensign Tabor and read a letter that Harry's cousin, Dennis, sent from Earth. Tuvok stated that as chief of security, he had authority to suspend the protocols under special circumstances. (

VOY

: "

Repression

")
Starfleet Safety Protocols
Edit
Starfleet Security Protocols
Edit
Protocol 28 (Subsection D): "In the event of hostile alien takeover the EMH is to deactivate and wait for rescue." (

VOY

: "

Message in a Bottle

")
Protocol 49.09 (Regarding the treatment of prisoners on board a starship) In an alternate reality, Spock marooned James T. Kirk on Delta Vega. Kirk believed this act to be a violation of this protocol. (Star Trek)
Unnumbered protocol Luther Sloan, posing as Deputy Director of the Department of Internal Affairs, mentioned there was security protocol that prevented others to talk to prisoners under his authority without his clearance. (

DS9

: "

Inquisition

")
Starfleet Transfer Regulations
Edit
SFR-02-0933-3440: Transfer of an Officer to Another Starship
SFR-02-0933-3462F: Transfer Authority of a Starbase-Commanding Admiral (see graphic below)
SFR-02-0933-3459C: Elegibility of Starfleet Exploratory Corps Personnel to Serve in Other Starfleet Divisions (see graphic below)
SFR-02-9384-8896: Transfer of Attached Scientific Personnel to Starship Duty
SFR-02-8431-4933: Authority for Assignment of Deep Space Exploratory Corps Personnel
SFR-03-3823-3893: Assignment of Starfleet Operational Support Officers
SFR-03-8532-3892: Emergency Assignment of Scientific and Research Specialists
SFR-03-4832-3843: Notification Requirements for Reassignment Within Deep Space Corps
SFR-03-5931-0943: Transfer of Starfleet Diplomatic Corps Personnel to Deep Space Duty
SFR-04-4833-9834: Eligibility for Exploratory Corps Personnel to Starbase Assignment
SFR-04-4930-0027: Transfer Policies for Daystrom Institute Faculty Researchers
SFR-05-3832-9322: Special Environmental Support Provisions for Class-K Native Personnel
SFR-05-3023-3893: Equal Treatment for Zero-Gravity Native Personnel
SFR-06-3893-3892: Transfer of Starfleet Tactical Specialists to Starbase Service
SFR-06-0039-2174: Authority for Assignment of Operational Support Personnel
SFR-06-8342-9322: Special Authority for Federation Diplomatic Corps
Starfleet/Federation Codes
Edit
Regulations not specified by name or number
Edit
Miscellaneous
Edit
Fictional
Edit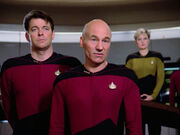 Tactical Directive 36A: "The captain will not engage a hostile force without the protection of a security officer." (

VOY

: "

Unimatrix Zero

")
Apocrypha
Edit
Protocol B: regulated how crewmembers could access all power components on a starship if they were no longer deemed reliable. (

TNG

: "

Evolution

" cut scene)
Starfleet Catastrophic Response Code, Section A: When all forms of communication failed to establish a link between Starfleet vessels and any Federation outpost, all personal and ordnance were required to attempt immediate rendezvous at Starfleet Command. (Star Trek: First Frontier)
General Order 16: All Starfleet ships detecting the energy signature from one of the four Malkus Artifacts were under orders to find and confiscate the artifacts. (Star Trek: The Brave and the Bold)
The only recorded instances of General Order 24 actually being carried out are the first issue of the Gold Key Star Trek comic series: "The Planet of No Return", and the novel Reap the Whirlwind in the Star Trek: Vanguard series.
General Order 34: Starfleet captains must honor, respect, and display extreme tolerance for species-based customs and practices insofar as the safety of the vessel was not threatened by such practices. (Star Trek: New Frontier novel Being Human)
Regulation 121: An emotionally compromised officer was not fit to serve in the position of captain. (Star Trek novelization)
UFP Regulation 342-188564.3 (Paragraph 3): A class-3 biohazard alert. All personnel not part of a Biohazard Response Team were to stay away from any site broadcasting such an alert. (Star Trek: 25th Anniversary, Episode 3: "Love's Labor Jeopardized")
Secret Regulations of Stardate 7500: The exact language was not specified, but the secret regulations of stardate 7500 were outlined the response to an invasion of the Federation. They were created on stardate 7500, amended stardate 42799, and gave the officer who invoked it the authority to second any Starfleet officers to their command and seniority in command decisions related to the invaders. (Star Trek: The Return)
Starfleet Protocol 547c: Not really known, but seeing as it was cited while trying to shut down force fields leading to the USS Enterprise-C, it is assumed that it was a security protocol. (Star Trek Online, "Temporal Ambassador")
External link
Edit