The Starfleet Academy marathon was a race of Starfleet cadets.
In the marathon of 2323, on the planet Danula II, Jean-Luc Picard became the first freshman cadet to win the marathon. A considerable amount of training preceded it. (TNG: "The Best of Both Worlds, Part II", "Chain of Command, Part I")
Background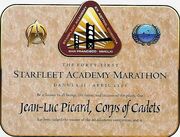 A certificate created for the Picard family album in Star Trek Generations, which was not seen on screen, stated that Picard won the forty first academy marathon in April of 2323. It also states that the distance of this marathon was forty kilometers.
According to his dossier on the offical Star Trek site, in the alternate reality Pavel Chekov won the Academy marathon some time before his mission on the USS Enterprise in 2258, and was the youngest cadet to do so at the time. [1]
External link