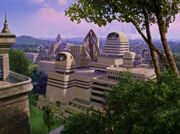 Starbase 515 was a Federation starbase located on a planet in the vicinity of the Epsilon IX sector and Rhomboid Dronegar sector 006.
Captain Jean-Luc Picard went there in 2365 to undergo a cardiac replacement. Wesley Crusher took his Academy entrance exams there at the same time. (TNG: "Samaritan Snare")
In early 2366, the USS Enterprise-D shuttlecraft Indiana Jones made a trip to this starbase. (TNG: "Evolution")
The matte for Starbase 515's cityscape was a reuse of matte created for the capital city of Angel I; the matte was extensively altered for the remastered edition of "

Samaritan Snare

".

According to

Startrek.com

, Starbase 515 was located in the Scylla sector.

[1]
Medical facilities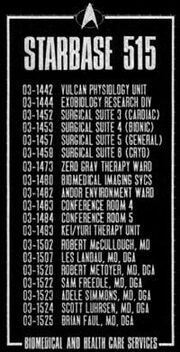 Starbase 515 had special biomedical health care services:
Directory
03-1442 Vulcan Physiology Unit
03-1444 Exobiology Research Division
03-1452 Surgical Suite 3 (Cardiac)
03-1453 Surgical Suite 4 (Bionic)
03-1457 Surgical Suite 5 (General)
03-1459 Surgical Suite 6 (Cryo)
03-1473 Zero Grav Therapy Ward
03-1480 Biomedical Imaging Services
03-1482 Andor Environment Ward
03-1483 Conference room 4
03-1484 Conference room 5
03-1502 Robert McCollough, MD
03-1507 Les Landau, MD, DGA
03-1520 Robert Metoyer, MD, DGA
03-1522 Sam Freedle, MD, DGA
03-1523 Adele Simmons, MD, DGA
03-1524 Scott Luhrsen, MD, DGA
03-1525 Brian Faul, MD, DGA
Base personnel
External link