Ad blocker interference detected!
Wikia is a free-to-use site that makes money from advertising. We have a modified experience for viewers using ad blockers

Wikia is not accessible if you've made further modifications. Remove the custom ad blocker rule(s) and the page will load as expected.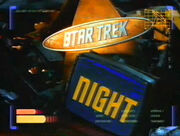 A Star Trek Night is a general term often used to describe evenings of continuous television programming or events devoted exclusively to the Star Trek franchise.
UK Star Trek NightsEdit
The BBC has produced many special evenings of programmes devoted to certain subjects including ones with science fiction themes. Such efforts have included Doctor Who, Red Dwarf, and Star Trek. Two Star Trek Nights have been produced by the BBC: