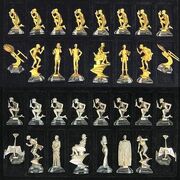 The Star Trek Commemorative Chess Set was produced by The Franklin Mint for Star Trek's 25th anniversary in 1991. This was a standard chess set with TOS-themed pieces:
Gold pieces
Edit
Silver pieces
Edit
The pieces were produced in pewter, plated in either 24-karat gold or sterling silver and placed on crystal hexagonal bases. The board doubled as the storage case for the pieces.
The Franklin Mint also produced a matching Star Trek Commemorative Checker Set.
Ad blocker interference detected!
Wikia is a free-to-use site that makes money from advertising. We have a modified experience for viewers using ad blockers

Wikia is not accessible if you've made further modifications. Remove the custom ad blocker rule(s) and the page will load as expected.