Star Trek Catan is a three- or four-player board game set during Star Trek's Original Series era. An adaptation of the publisher's renowned The Settlers of Catan, the game was created by designer Klaus Teuber, produced by Catan GmbH for Kosmos (Franckh-Kosmos Verlags-GmbH & Co.), and premiered at retail in February 2012.
The game's English translation was released in August 2012 by Mayfair Games, the US licensee for all of the Catan games, and was distributed principally through Target stores in North America. An expansion map set was also released a year later.
Base game
Edit
Gameplay
Edit
From the publisher's website

On behalf of the Federation, you explore space with your starships and build outposts and starbases near valuable planets. There you extract important resources such as the coveted dilithium. But the Federation has also sent out other expeditions.
Therefore, you have to be wary of competitors - and of the Klingons, who want to give the players a hard time. With the aid of Captain Kirk and Mr. Spock, however, keeping the opponents in check and outperforming competitors should be an easy task.

Excerpts of copyrighted sources are included for review purposes only, without any intention of infringement.
Contents
Edit
19 Hexagonal Sector Tiles
6 Frame Pieces
60 Starships (15 each in 4 colors)
28 Outposts (7 each in 4 colors)
16 Starbase Expansions (4 Habitat Rings in 4 colors)
1 Klingon ship
89 Stands for the ships and outposts
95 Resource Cards (19 each of Dilithium, Tritanium, Oxygen, Food, and Water)
25 Development Cards (14 Starfleet Intervenes, 6 Progress Cards, and 5 Victory Point Cards)
10 Support Cards (Kirk, Spock, McCoy, Sulu, Chekov, Uhura, Scotty, Chapel, Rand, and Sarek)
4 Building Costs Cards
2 Special Cards (Longest Supply Run and Largest Starfleet)
18 Number Tokens
2 Dice
Rules Sheet
Almanac
Federation Space expansion
Edit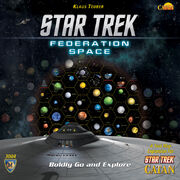 In August 2013, Mayfair Games released the Star Trek Catan Federation Space map set expansion for the game. It was based on the "The Explored Galaxy" star chart which was seen in many Star Trek productions.
2 new Maps
4 individual Scoring Tracks (one for each player)
4 sets of Scoring Markers (two for each player)
18 additional Victory Point Tokens
Almanac
new Rules Sheet and twenty pages of planet and episode descriptions
External links
Edit
Ad blocker interference detected!
Wikia is a free-to-use site that makes money from advertising. We have a modified experience for viewers using ad blockers

Wikia is not accessible if you've made further modifications. Remove the custom ad blocker rule(s) and the page will load as expected.