Star Trek Beyond (digital) is a digital version of Star Trek Beyond available online.
Initially, Star Trek Beyond was made available to buy from Amazon Video, in North America, on 4 October 2016. In the UK, the film was put on sale by Amazon Prime Video on 1 November 2016. The film was made available to stream for free on Amazon Prime from 17 June 2017.
Google Play
Edit
This article or section is incomplete
This page is marked as lacking essential detail, and needs attention. Information regarding expansion requirements may be found on the article's talk page. Feel free to edit this page to assist with this expansion.
Star Trek Beyond was released to stream on Hulu from the same date as it was added to Amazon Prime for free streaming: 17 June 2017. [1]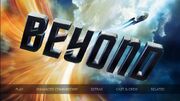 Star Trek Beyond was released in the iTunes Store on 4 October 2016. That edition of the movie contains an exclusive audio commentary with Director Justin Lin, which is not available on any other home video format of the film. The iTunes version also includes a pair of deleted scenes, a pair of photo galleries (featuring behind-the-scenes images and concept art), a gag reel, and the following featurettes:
"Beyond the Darkness: Story Origins"
"Enterprise Takedown"
"Divided and Conquered"
"A Warped Sense of Revenge"
"Exploring Strange New Worlds"
"New Life, New Civilizations"
"Trekking Into the Desert: On Location in Dubai"
"To Live Long and Prosper: 50 Years of Star Trek"
"For Leonard and Anton"
UltraViolet
Edit
Released on 1 November 2016 in North America, an UltraViolent Digital HD version of the film was made available with the Blu-ray, 3D Blu-ray, and 4K Ultra HD sets of the movie.