Warning!
This page contains information regarding material for the upcoming Star Trek film, and thus may contain spoilers.
Star Trek is a co-op video game set for release on 23 April 2013. Set between Star Trek and Star Trek Into Darkness, it will allow gamers to play as James T. Kirk and Spock when they discover a group of scientists developing a New Vulcan homeworld have torn open a hole in space with their Helios device, enabling the Gorn to invade. (Empire issue 252)[1]
The game was developed by Digital Extremes, with a script written by Marianne Krawczyk, and story input from Roberto Orci, Alex Kurtzman, Damon Lindelof and Mike Johnson. The primary cast of the films (Chris Pine, Zachary Quinto, Karl Urban, Zoe Saldana, Simon Pegg, John Cho, and Anton Yelchin) will provide voiceovers, [2] while Michael Giacchino provided the score.[3]
Gameplay
The tricorder is the primary gameplay element, giving players information and an interface to solve puzzles. Kirk and Spock will each have their own unique gameplay attributes. Kirk can call an orbital strike from the USS Enterprise, while Spock can use his Vulcan mind melding ability to unlock certain cinematics. [4] The choice of character will also affect how non-playable characters interact with them, for example, some female officers will flirt with Kirk while ignoring Spock.[5]
Using set blueprints, Digital Extremes will also show areas of the Enterprise not shown in the film, such as the captain's quarters. The player can explore the ship and use research points collected by the tricorder to upgrade phasers, communicators and the tricorder. [6]
The Gorn will come in ten varieties, from small Gorn Rushers, to larger Gorn Warriors, Commandoes and Brutes, and wallcrawling females and tech specialists. [7] They are depicted as being skilled with hallucogenic poisons, which they can use to turn some Vulcans on Kirk and Spock. The game will also feature the Enterprise in ship-to-ship combat, [8] and subterranean swimming gameplay.[9] Co-op can be allowed during Enterprise gameplay, with one player controlling the phasers and the other using the torpedoes.[10]
Release
The game began development in 2010 and was announced the following year at E3 for a 2012 release. On 10 February 2012, it was announced that Namco Bandai would co-publish and distribute the game in Spring 2013, shortly before the release of the Star Trek sequel. [11]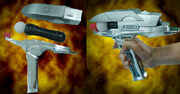 A Playstation Move phaser and a prequel game available from the Playstation Network were announced at E3 2011. [12] However, Paramount ultimately opted out of PSM and Xbox Kinect.[13]
Downloadable content
Star Trek will have the following downloadable content:
Credits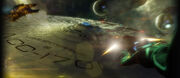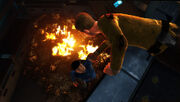 Cast
Stunts
Crew
External links