Star Trek: The Starfleet Academy Experience is a traveling attraction in the United States in Canada, beginning at the Canada Aviation and Space Museum in Ottawa, Ontario.
Participants learn about science through the experience of being a Starfleet Academy cadet, including reenacting the Kobayashi Maru scenario.
Locations
Edit
Shuttle crash
Edit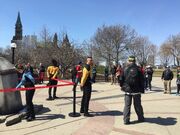 The "shuttle crash" in Ottawa, Canada, was a publicity stunt created by the ad agency Acart Communications to promote the world premiere of Star Trek: The Starfleet Academy Experience at the Canada Aviation and Space Museum.
Unveiled in April 2016, the campaign began with an unbranded video of a "UFO crash" near the museum. This was picked up on Reddit and by local TV media, the latter were in collusion with the campaign. The "crash" was followed by the museum's release of an "intercepted and decoded message" from a Starfleet captain apparently attempting time travel back to Earth.
The next day, a crashed nacelle from a type 6 shuttlecraft appeared in Ottawa's Byward Market, being guarded and examined by Starfleet personnel.
The publicity stunt is that all content was approved by CBS, however, the name of the captain is never given, nor is his ship's name.
External links
Edit
Ad blocker interference detected!
Wikia is a free-to-use site that makes money from advertising. We have a modified experience for viewers using ad blockers

Wikia is not accessible if you've made further modifications. Remove the custom ad blocker rule(s) and the page will load as expected.