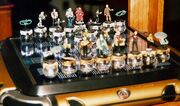 The Star Trek: The Next Generation Commemorative Chess Set was a standard chess game set produced by The Franklin Mint in 1995, shortly after the last episode of Star Trek: The Next Generation aired and before Star Trek Generations hit theaters.
Like its predecessor – the Star Trek Commemorative Chess Set – this was a standard chess set that consisted of a specially-designed game board that doubled as storage for the game pieces, but the style of the board emulated the LCARS displays of the USS Enterprise-D. Additionally, the pieces for this set were painted, fitted onto gold- or silver-plated discs, and set on large round crystal bases.
The pieces were as follows:
"Gold"-based pieces
Edit
"Silver"-based pieces
Edit
Ad blocker interference detected!
Wikia is a free-to-use site that makes money from advertising. We have a modified experience for viewers using ad blockers

Wikia is not accessible if you've made further modifications. Remove the custom ad blocker rule(s) and the page will load as expected.