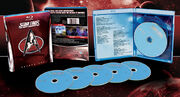 Star Trek: The Next Generation was remastered from the original camera negatives for release on Blu-ray, beginning in 2012 with a "sampler disc" of three episodes. Complete season sets were later released - beginning with the first season in July 2012 - at a planned schedule of two season releases per year through 2015. [1]
Apart from the restored episodes, many of which with originally edited out footage reinserted, resulting in extended episodes, the Blu-ray releases also contained all the special features (albeit un-restored in standard definition), originally included in the DVD releases, supplemented by newly produced ones in high definition. The new special features were directed and produced by Robert Meyer Burnett, who referred to these as "value added material" (VAM), and Roger Lay, Jr.
The Value Added Material (VAM) controversy
Edit
In April 2013 a start was made with the release of feature length two-part episode single-discs. It was with the release of the first one, "The Best of Both Worlds", that it became evident that these issues would contain newly made special features, that were not to be included in the regular boxed season releases, much to the dismay of fans. Director and editor of this material for the Blu-ray releases, Burnett, has justified the decision as follows,
"On both TNG and ENTERPRISE, Roger and I have stretched our budgets far, FAR beyond what they can accommodate in terms of content. Frankly, because we're fanatics, we're basically taking dollars out of our own pockets to create more and better VAM. As far as TNGS3 was concerned, I just DECIDED to make the documentary 90 minutes instead of 60. I asked Roger and he agreed. Ira Behr's interview was so compelling, and he only worked one season on TNG, we both felt we had to use as much of it as we could, so we needed that extra 30 minutes. But what people must understand is...each MINUTE of VAM has a dollar value associated with. There's only a finite amount of money budgeted for each title. There simply isn't any more. We're given a set budget for each season and are expected to work within that budget. To go over is unprofessional in the extreme. And if you read between the lines, you can see CBS has gone way, WAY above and beyond to accommodate the VAM. Way, WAY beyond...

"Now... when the decision was made to create the BEST OF BOTH WORLDS Movie for the Fathom Event, and then CBS wisely decided to make that a stand-alone release available to hopefully attract new customers, suddenly there's a new budget, and money allocated to create a product which didn't previously exist. So Roger and I jump all over that and CBS gave us a budget which allowed us to create a new commentary and half-hour documentary which wouldn't otherwise exist. Which adds to the overall value of the single-disc BEST OF BOTH WORLDS movie. Fans need to understand nothing was taken away from the individual season discs...because the BOBW doc wasn't a part of that. Our Season Three VAM is absolutely the best we could have possibly done with our budget. CBS could have decided to release a vanilla BOBW disc, but we're like... HEY! WAIT A MINUTE! Can we do some more VAM? To CBS's credit, they agreed... but I'm sure someone was thinking..., "Those fuckin' guys... don't they ever stop?" Well... no... we don't." [2]
To aggravate matters, for fans at least, CBS made the decision, prior to the release of
TNG Season 3 Blu-ray
, to employ the so-called "retailer exclusive" format. The format entailed that preferred retailers, most notably the chain store Best Buy, would receive BluRay versions that contained special features, not included on the regular release, something that flew straight in the face of CBS'
express promise
at the start of the project, that costumers would receive
all
available material on their purchases. Indeed, the format was employed with the release of the third season, when the fifteen-minute visual effects special "
The Trek Not Taken
" was not included on the regular release, but only available to customers at Best Buy. Not only this, but the format was extended to the
ENT Season 1 Blu-ray
release of
Star Trek: Enterprise
, which ran concurrently with that of
The Next Generation
, as well. Partner website
TrekCore.com
has reported that the format did not apply to the German releases, though the "The Trek Not Taken"-special had to be downloaded separately by customers of
TNG Season 4 Blu-ray
at the German CBS
Star Trek
website, as was required with the
Enterprise
-special. To add insult to injury, neither special was made available to customers anywhere else in the world. It appears however, that CBS did not follow-up on this format at least, as these two releases are to date the only ones where the format was applied. The feature-length releases though, continued to include exclusive special features.
[3]
Season releases
Edit
Collections
Edit
Special releases
Edit
German release
Edit
The Blu-ray release in Germany included a special collectible pin with each set. After the release of all seven seasons, purchasers could enter special codes at the German Star Trek website to receive a free case for the collection. [4] The initial release of the Season 1 set had the included pin in a small plastic bag, which allowed the metal pin to damage the front of the steelbook case. Buyers were able to request a replacement case through the German Star Trek website, [5] and future releases were changed to include the pin in a small box. The seven seasons also featured spanning spine artwork when shelved together.
Ad blocker interference detected!
Wikia is a free-to-use site that makes money from advertising. We have a modified experience for viewers using ad blockers

Wikia is not accessible if you've made further modifications. Remove the custom ad blocker rule(s) and the page will load as expected.