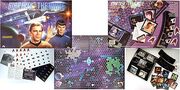 Star Trek: The Game is a combination trivia/adventure board game produced by Classic Games in 1992.
The object of the game: players must navigate their way to each of the four planets on the game board by answering increasingly-difficult trivia questions based on the original series and the first six Star Trek films, then return to the Starfleet Command space at the center of the board to win.
Ad blocker interference detected!
Wikia is a free-to-use site that makes money from advertising. We have a modified experience for viewers using ad blockers

Wikia is not accessible if you've made further modifications. Remove the custom ad blocker rule(s) and the page will load as expected.