Star Trek: The Animated Series (Blu-ray)
Discuss

1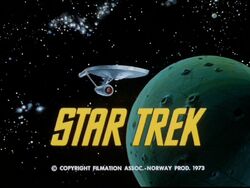 Star Trek: The Animated Series is a forthcoming Blu-ray release, which is currently being developed for high-definition; there has been no official release date announced.
The series' release was first revealed by Star Trek: The Next Generation Blu-ray producer Robert Meyer Burnett in an interview with TrekCore.com on 16 January 2013. [1]
A few days later this was clarified by Burnett as just a "wish list" of projects he'd like to see, but it was not something that was actually being developed presently. [2]
The episode "More Tribbles, More Troubles" is currently available in high definition on the TOS Season 2 Blu-ray.