DVD release

Series:
Star Trek films
No. of discs:
12
Director:
various
Region 1 release date:
10 September 2013
Region 2 release date:
29 April 2013 (UK)
12 July 2013 (Japan)
Region 4 release date:
1 May 2013
Rating(s):
Subtitles:
English, French, Dutch, German, Danish, Finnish, Swedish, Norwegian (UK)
Dubbed:
French, German (UK)
Reference:

ASIN B00DB97LU4

(region 1)


ASIN B00BKN6ZRI

(region 2, UK)


ASIN B00BRC6PRW

(region 2, Germany)


ASIN B00C97XUX6

(region 2, Japan)
Year:
various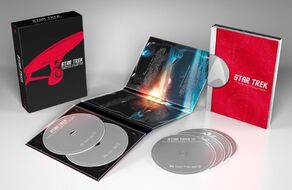 Star Trek: Stardate Collection is a DVD collection featuring the first ten Star Trek films. Each film has been digitally remastered in high-definition, and is based on the theatrical cut in each instance. The contents of the set are essentially identical to that of the previous Star Trek: Legends of the Final Frontier Collection, except in smaller packaging.
Contents
Edit
Commentary by Damon Lindelof and Anthony Pascale
Industrial Light & Magic – The Next Generation
Greetings from the International Space Station
SpaceShipOne's Historic Flight
Brent Spiner: Data and Beyond - Part Two
Trek Roundtable: First Contact
Starfleet Academy: Temporal Vortex
Commentary by Jonathan Frakes and Marina Sirtis
Westmore's Legacy
Marina Sirtis: The Counselor Is In
Brent Spiner: Data and Beyond - Part Three
Trek Roundtable: Insurrection
Starfleet Academy: The Origins of the Ba'ku and Son'a Conflict
Commentary by Michael and Denise Okuda
Reunion with the Rikers
Today's Tech, Tomorrow's Data
Robot Hall of Fame
Brent Spiner: Data and Beyond - Part Four
Trek Roundtable: Nemesis
Starfleet Academy: Thalaron Radiation
Star Trek: Special Features Edit
Two bonus discs featuring the following documentaries: