Star Trek: Legends of the Final Frontier Collection (DVD)
Discuss

0
Share
Ad blocker interference detected!
Wikia is a free-to-use site that makes money from advertising. We have a modified experience for viewers using ad blockers

Wikia is not accessible if you've made further modifications. Remove the custom ad blocker rule(s) and the page will load as expected.
DVD release

Series:
Star Trek films
No. of discs:
12
Director:
various
Region 2 release date:
6 November 2009 (Japan)
16 November 2009 (UK)
Rating(s):
Reference:

ASIN B002JTZ6Y0

(Japan)


ASIN B002KKCVXC

(UK)
Year:
various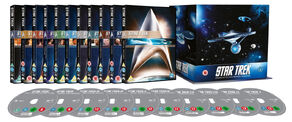 The Star Trek: Legends of the Final Frontier Collection is a DVD collection, released only in Regions 2 and 4, featuring the first ten Star Trek films. Each film has been digitally remastered in high-definition, and is based on the theatrical cut in each instance. Star Trek II: The Wrath of Khan required extensive restoration to feature in this release - director Nicholas Meyer noting that the original negative "was in terrible shape". Star Trek VI: The Undiscovered Country is presented in its original theatrical aspect ratio of 2.35:1.
Contents
Edit
Commentary by Damon Lindelof and Anthony Pascale
Industrial Light & Magic – The Next Generation
Greetings from the International Space Station
SpaceShipOne's Historic Flight
Brent Spiner: Data and Beyond - Part Two
Trek Roundtable: First Contact
Starfleet Academy: Temporal Vortex
Commentary by Jonathan Frakes and Marina Sirtis
Westmore's Legacy
Marina Sirtis: The Counselor Is In
Brent Spiner: Data and Beyond - Part Three
Trek Roundtable: Insurrection
Starfleet Academy: The Origins of the Ba'ku and Son'a Conflict
Commentary by Michael and Denise Okuda
Reunion with the Rikers
Today's Tech, Tomorrow's Data
Robot Hall of Fame
Brent Spiner: Data and Beyond - Part Four
Trek Roundtable: Nemesis
Starfleet Academy: Thalaron Radiation
Star Trek: Special Features Edit
Two bonus discs featuring the following documentaries: