Star Trek: Bridge Crew is an upcoming first-person virtual reality game, currently scheduled to be released in March 2017. [1]
It is set in the alternate reality, after the events of 2009's Star Trek, where you play as the crew of the USS Aegis (NX-1787), a ship tasked with finding a homeworld for the survivors of Vulcan. The ship explores a region known as "The Trench", where it will encounter the Klingons. [2]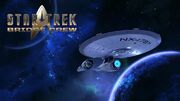 Bridge Crew debuted at E3 2016, with a promotional video of LeVar Burton, Jeri Ryan, and Karl Urban play-testing the game. [3]
At the E3 conference held from June 14-16, 2016, it was nominated for an award for "best VR game". [4]
External links
Edit
Ad blocker interference detected!
Wikia is a free-to-use site that makes money from advertising. We have a modified experience for viewers using ad blockers

Wikia is not accessible if you've made further modifications. Remove the custom ad blocker rule(s) and the page will load as expected.