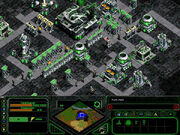 Star Trek: Borg Assimilator was an unreleased PC game from Activision and Cyberlore Studios. Announced on 6 March 2001, and billed as a "world-building simulator", Borg Assimilator was planned to be a strategy game where players built empires through assimilation.
The single player campaign mode was to have featured twelve levels, with the goal of acquiring enough territory and technology to develop a stable Omega particle. Once this was achieved, the player could go on to conquer the Alpha Quadrant in "Freestyle Mode", driven by a customizable scenario.
The game was intended to be released in winter 2001. Development was suspended after Activision belatedly realized that "the game's design did not reflect the established Star Trek universe".
External links
Edit