Star Trek: Beyond the Final Frontier
Discuss

1
For the episode guide, see Beyond the Final Frontier.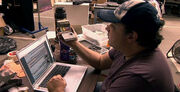 Star Trek: Beyond the Final Frontier was a documentary on Star Trek fandom presented by The History Channel on 19 February 2007. It was hosted by Leonard Nimoy and focused mainly on Christie's 40 Years of Star Trek: The Collection auction.
Interviewees
Trek production staff and performers
Paramount
John Wentworth, VP Communications
Christie's
Stephen Arnold, Photographer
Helen Bailey, Head of Entertainment Memorabilia; auctioneer
Alec Bennie, Art Handler
Kate Brambilla, Auction Administrator
Catherine Elkies, Director of Iconic Collections; auctioneer
Andy Foster, Chief Operating Officer
Lisa King, International Managing Director
Ginette Lospinoso, Business Manager, Iconic Collections
Ian Wilkie, Art Handler
Auction winners
Others
Trivia
Dave Rossi can be seen using Memory Alpha while researching a prop.
During his interview, Patrick Stewart mentions that Rick Berman had once arranged to present him with a uniform he wore as Captain Jean-Luc Picard. This occurred on the December 16, 2002, episode of The Late Late Show with Craig Kilborn.
External links
Official History Channel page

wbm