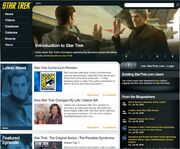 StarTrek.com is the official website for Star Trek. The site contains an extensive database and episode guide, chats with cast and crew, videos and more.
History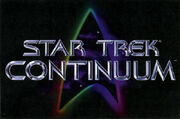 Founded in November 1995, the site was originally named Star Trek Continuum, and accessible only through the Microsoft Network. (AOL chat, 1997)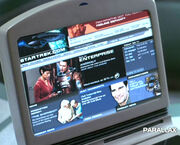 In the Voyager Season 1 DVD special "Launching Voyager on web", the history of StarTrek.com was shown. In a modified screencap from the episode "Parallax", a computer shows the website on its screen. The site and its structure was also briefly featured in the TNG Season 2 DVD special feature "Mission Overview Year Two - Gene Roddenberry".
Tim Gaskill served as editorial director, and later Senior Content Producer from 2000 to 2007.
During the airing of Star Trek: Enterprise, a number of podcasts were produced for the site, serving as audio commentaries.
In 2003, a Flash-animated series was presented called "The Young Hunter".
On 14 December 2007 it was announced that the entire production team responsible for StarTrek.com had been laid off, effective immediately. The change came as a result of restructuring at CBS Interactive. [X]wbm
Relaunch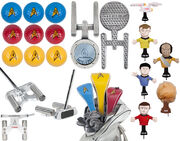 After an extensive period of inactivity – including during the production and release of Star Trek – CBS Interactive announced on 5 May 2010 that a new version of StarTrek.com would launch in Summer 2010. [1][2]
The new-look site – designed by Funny Garbage – was launched as a beta version on 14 July 2010, retaining much of the content that was previously displayed on the site, as well as featuring news headlines from other major Star Trek sites, fan contributions, and full-length streaming episodes of Star Trek: The Original Series and Star Trek: Enterprise (geo-restricted to the United States). [3]
Through its "Star Trek Shop", the site also began to retail many Star Trek-related items including novelties, collectibles, toys, artwork, and clothing.[4]
External link