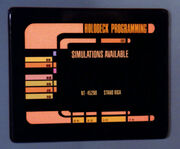 Stano Riga was a 23rd century humanoid comedian, considered among the funniest, specializing in jokes about quantum mathematics.
His simulation was among the holodeck programs available aboard Federation starships on the topic of humor. (Data thought it would be "too esoteric" and wanted something more "generic" — which turned out to be Joe Piscopo's Comedian.) The program code list for this comedian was NT-45299. (TNG: "The Outrageous Okona")
Ad blocker interference detected!
Wikia is a free-to-use site that makes money from advertising. We have a modified experience for viewers using ad blockers

Wikia is not accessible if you've made further modifications. Remove the custom ad blocker rule(s) and the page will load as expected.