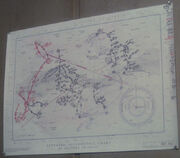 A standard astrometric chart was a type of star chart used by Humans in the 22nd century.
As a child, Travis Mayweather went through a phase where he spent a month mapping every place he ever wanted to go on such a chart. His mother kept the chart, even after he left the ECS Horizon. (ENT: "Horizon")
The map was designed by Alan Kobayashi, and a version of it was used on the cover of the book
Enigma
.