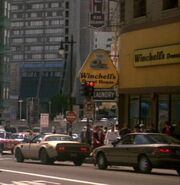 The St. Paul Hotel was a hotel in the city of San Francisco on Earth in the 20th century. Located at 935 Kearny Avenue, and at the intersection of Kearny and Columbus Avenue, this historic hotel shared a building with Winchell's Donut House.
In 1986, a band of time travelers from the 24th century, led by Admiral James T. Kirk, walked past this hotel. (Star Trek IV: The Voyage Home)
Built in 1906, the St. Paul Hotel was later renamed to Hotel North Beach.