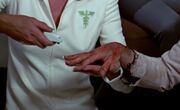 The spray applicator was a medical device standard in medkits from the 2260s to 2270s. It was capable of dispensing a wide variety of topical liquids, foams and gels. The spray applicator was routinely preloaded with a flesh-colored suspension of a coagulant, numbing anesthetic, and antibiotic.
It was used to treat Pavel Chekov's burns when he was injured by a sparking bridge console. (Star Trek: The Motion Picture)
Ad blocker interference detected!
Wikia is a free-to-use site that makes money from advertising. We have a modified experience for viewers using ad blockers

Wikia is not accessible if you've made further modifications. Remove the custom ad blocker rule(s) and the page will load as expected.