Ad blocker interference detected!
Wikia is a free-to-use site that makes money from advertising. We have a modified experience for viewers using ad blockers

Wikia is not accessible if you've made further modifications. Remove the custom ad blocker rule(s) and the page will load as expected.
The Spirit of St. Louis, or Ryan NYP (Ryan New York to Paris, registration N-X-211), was flown by Charles Lindbergh on the first successful trans-Atlantic flight in 1927. (Star Trek: Enterprise, opening credits)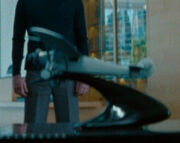 In 2259 of the alternate reality, a replica of this aircraft was on display in the office of Admiral Alexander Marcus. (Star Trek Into Darkness)
The Artisan prop and model shop of Quantum Mechanix, QMx FX Cinema Arts, was asked to illustrate the history of space flight with models for the film. They constructed fourteen models in total. On their website, there was a picture of the
Spirit of St Louis
model.
[1]
External link
Edit