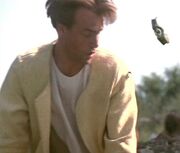 Son'a drones were small automated flying devices used by the Son'a, capable of shooting isolinear tags. These probes were capable of pursuing moving humanoids, targeting them and firing dart-like tags onto them.
In 2375, two Son'a shuttles launched several dozen drones on the Ba'ku planet when their transporters were unable to lock on to the escaping Ba'ku and Starfleet personnel. At least fourteen drones were destroyed in the pursuit. (Star Trek: Insurrection)
See also
Edit
Ad blocker interference detected!
Wikia is a free-to-use site that makes money from advertising. We have a modified experience for viewers using ad blockers

Wikia is not accessible if you've made further modifications. Remove the custom ad blocker rule(s) and the page will load as expected.