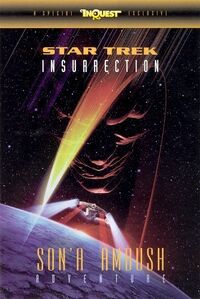 Son'a Ambush is a board game published by Last Unicorn Games in 1998. It was included as a free insert with issue #46 (February 1999) of InQuest Gamer Magazine. It could be played as a solitaire game, or with two players with the second player controlling the Son'a side of the fight.
The game is a re-enactment of the Ba'ku exodus from their village seen in Star Trek: Insurrection. The crew of the USS Enterprise-E must escort a group of Ba'ku from their village to the safety of a cave in the mountains. To succeed, they must get at least one of the Ba'ku to the cave space on the game map while avoiding attacks from the Son'a soldiers and their drones. Game combat is resolved using a simplified version of the "Icon System" used for LUG's Star Trek: The Next Generation Role Playing Game.
Game components
Edit
One poster-sized game board with cut-out game pieces of:

6 Generic Ba'ku Villagers
3 Son'a Soldiers
12 Son'a Drones
NOTE: The player(s) must supply their own six-sided dice to play.

The game rules and detailed ability descriptions of the Enterprise crew and the Son'a soldiers are listed on the back of the game board.
External link
Edit
Ad blocker interference detected!
Wikia is a free-to-use site that makes money from advertising. We have a modified experience for viewers using ad blockers

Wikia is not accessible if you've made further modifications. Remove the custom ad blocker rule(s) and the page will load as expected.