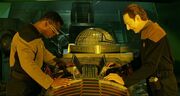 A solar probe was a type of probe capable of being fired into a sun for the purpose of scientific research.
In 2371, Tolian Soran, an El-Aurian scientist, utilized a solar probe outfitted with trilithium to destroy the Amargosa star. He later attempted to perform the same action on the Veridian star, but was stopped by Jean-Luc Picard and the crew of the USS Enterprise, along with James T. Kirk. (Star Trek Generations)
Ad blocker interference detected!
Wikia is a free-to-use site that makes money from advertising. We have a modified experience for viewers using ad blockers

Wikia is not accessible if you've made further modifications. Remove the custom ad blocker rule(s) and the page will load as expected.