Ad blocker interference detected!
Wikia is a free-to-use site that makes money from advertising. We have a modified experience for viewers using ad blockers

Wikia is not accessible if you've made further modifications. Remove the custom ad blocker rule(s) and the page will load as expected.
"I don't trust men who smile too much."
"There's something wrong about a man who never smiles..."
"Humans smile with so little provocation."
This article or section is incomplete
This page is marked as lacking essential detail, and needs attention. Information regarding expansion requirements may be found on the article's talk page. Feel free to edit this page to assist with this expansion.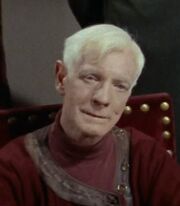 A smile was a facial expression that involved the turning up of one's lips, sometimes showing teeth. It could be a sign of happiness, stupidity, or intoxication.
In 2267, Kor noticed that Baroner (James T. Kirk) didn't share "the stupid, idiotic smile everyone else seems to be wearing". (TOS: "Errand of Mercy")
In 2268, while pretending to be members of the Führer's Special Documentary Corps, Kirk and Daras told various Ekosians to smile for the camera. (TOS: "Patterns of Force")
In some instances, smiling was considered inappropriate. Following the announcement that President Abraham Lincoln was coming aboard the USS Enterprise, Captain Kirk threatened to "have the hide of the first man that so much as smiles" (at the absurdity of the situation). (TOS: "The Savage Curtain")
External link
Edit