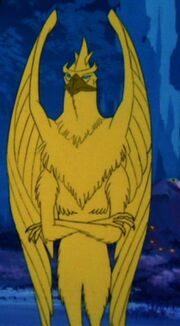 The Skorr were a space-faring, bipedal avian race with what appeared to be feathered wings. They existed as a warrior race with advanced technology and the ability to breed vast armies very quickly.
In the mid-21st century, a Skorr philosopher named Alar lead his race into a new era of peace. After Alar's death, his thought patterns were preserved in an indurite sculpture referred to as the "Soul of Skorr." (TAS: "The Jihad")
The Skorr closely resembled the Aurelians.

The Skorr are featured in the PC game

Star Trek: Starfleet Command, in which the player has to evacuate the Skorr homeworld under threat from an unidentified anomaly.
External link
Edit