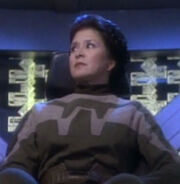 Simone Michelle Boisseree (born 22 April 1948; age 68) is a stuntwoman whose work includes two episodes of Star Trek: Deep Space Nine. She portrayed the Norkova captain in the episode "The Passenger" and doubled Michelle Krusiec in the episode "Time's Orphan". Boisseree received no credit for these appearances.
Selected stunt filmography
For Planet of the Apes she was nominated for a Taurus World Stunt Award for best stunt by a stuntwoman. Currently she is President of In-Flight Bedding by Simone.
External links