Silver Deer, also known as Silver Deer Crystal, is an American producer of crystal prisms, jewelry, and gifts for wholesale distribution. It was incorporated in 1982 and is based in Petaluma, California.
Star Trek releases Edit
The company gained licensing to produce limited edition crystal Star Trek starship replicas, "star catchers", and paperweights in 1993.
Crystal starships
Edit
Crystal paperweights
Edit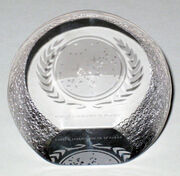 Crystal Star Catchers
Edit
See also
Edit
Ad blocker interference detected!
Wikia is a free-to-use site that makes money from advertising. We have a modified experience for viewers using ad blockers

Wikia is not accessible if you've made further modifications. Remove the custom ad blocker rule(s) and the page will load as expected.