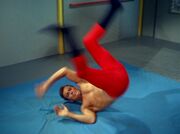 A shoulder roll was a type of self-defense move that allowed one to fall without injuring oneself.
In 2266, James T. Kirk offered to teach Charlie how to fight in the ship's gymnasium. He then demonstrated a shoulder roll. After watching Kirk execute the move, the boy refused to try the maneuver himself, and Kirk ended the lesson. Evans promptly protested, but Kirk explained that "you have to learn to protect yourself in a fall first. It's more than teaching you to defend yourself." (TOS: "Charlie X")
Ad blocker interference detected!
Wikia is a free-to-use site that makes money from advertising. We have a modified experience for viewers using ad blockers

Wikia is not accessible if you've made further modifications. Remove the custom ad blocker rule(s) and the page will load as expected.