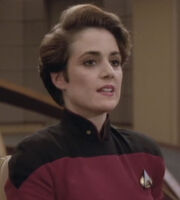 Sheila Franklin is the actress who played the recurring role of Ensign Felton in five fifth season episodes of Star Trek: The Next Generation.
For "A Matter of Time", she filmed her scenes between Monday 30 September 1991 and Wednesday 2 October 1991 on Paramount Stage 8. For "New Ground", Franklin filmed her scenes between Tuesday 8 October 1991 and Wednesday 9 October 1991 and on Wednesday 16 October 1991 on Paramount Stage 8. For "Hero Worship" she worked between Thursday 17 October 1991 and Monday 21 October 1991 on Paramount Stage 8. Franklin filmed her scenes for "The Masterpiece Society" on Friday 8 November 1991 on Paramount Stage 8. For her final appearance in the episode "Imaginary Friend", Franklin was on set on Friday 28 February 1992, Monday 2 March 1992, and on Thursday 5 March 1992.
Following her work on Star Trek, Franklin portrayed Barbara in an episode of the comedy series Home Improvement in 1992 with Kavi Raz and Kevin Brief and appeared in the 1998 film Centurion Force along with John Savage, Charles Napier, and Scott L. Schwartz.
Appearances
Edit
External link
Edit
Ad blocker interference detected!
Wikia is a free-to-use site that makes money from advertising. We have a modified experience for viewers using ad blockers

Wikia is not accessible if you've made further modifications. Remove the custom ad blocker rule(s) and the page will load as expected.