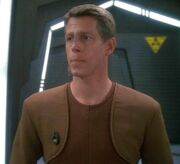 Shaun Bieniek played Deputy Pinar in the Star Trek: Deep Space Nine episode "Time's Orphan".
Shaun Bieniek is also the name of a real estate agent for GVA DAUM, one of the world's largest commercial real estate companies. It is unknown if this is the same Bieniek, but if it is, it may suggest that
DS9
was a client of GVA DAUM.