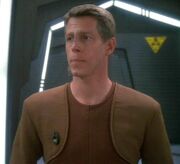 Shaun Bieniek played Deputy Pinar in the Star Trek: Deep Space Nine episode "Time's Orphan".
Shaun Bieniek is also the name of a real estate agent for GVA DAUM, one of the world's largest commercial real estate companies. It is unknown if this is the same Bieniek, but if it is, it may suggest that DS9 was a client of GVA DAUM.
Ad blocker interference detected!
Wikia is a free-to-use site that makes money from advertising. We have a modified experience for viewers using ad blockers

Wikia is not accessible if you've made further modifications. Remove the custom ad blocker rule(s) and the page will load as expected.