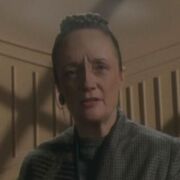 Sharon Conley played Jomat Luson in the Star Trek: Deep Space Nine episode "Cardassians".
Conley has also guest-starred in L.A. Law and NYPD Blue (with fellow DS9 guest stars Gordon Clapp and Victor Bevine). She also had a recurring role in Civil Wars.
Her movie credits include Nightmare on the 13th Floor (with Harvey Vernon), Her Final Fury: Betty Broderick, the Last Chapter (with Clayton Landey and Stephen Root) and My Life (with Mark Holton).
External link
Edit
Ad blocker interference detected!
Wikia is a free-to-use site that makes money from advertising. We have a modified experience for viewers using ad blockers

Wikia is not accessible if you've made further modifications. Remove the custom ad blocker rule(s) and the page will load as expected.