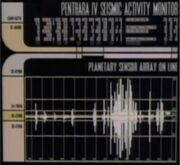 Seismology is the study and measure of earthquakes.
In Julian Bashir, Secret Agent, one of the villains, Hippocrates Noah, had gathered the world's leading seismologists and constructed a series of lasers designed to cause a chain reaction that would flood Earth via a series of extremely violent earthquakes. (DS9: "Our Man Bashir")
See also
Edit
External links
Edit
Ad blocker interference detected!
Wikia is a free-to-use site that makes money from advertising. We have a modified experience for viewers using ad blockers

Wikia is not accessible if you've made further modifications. Remove the custom ad blocker rule(s) and the page will load as expected.