Ad blocker interference detected!
Wikia is a free-to-use site that makes money from advertising. We have a modified experience for viewers using ad blockers

Wikia is not accessible if you've made further modifications. Remove the custom ad blocker rule(s) and the page will load as expected.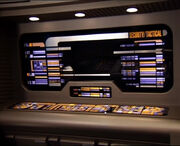 The
security station
is a section on
Federation
starships
for
officers
to review security and tactical data, and coordinate the
security
matters for the vessel.
Aboard Galaxy-class starships, like the USS Enterprise-D, the security station was located on deck 9. When the Enterprise-D received a message from the tactical officer of the Klingon ship IKS Bortas, Captain Jean-Luc Picard ordered Lieutenant Worf to handle the call at the security station. (TNG: "The Defector")
Aboard Intrepid-class starships, like the USS Voyager, the security station is found on the bridge and is integrated with the tactical station. (Star Trek: Voyager)