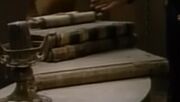 The Contract of Ardra was a contract that detailed the agreement between the Ventaxians and Ardra, who they considered to be the devil. In it, Ardra promised the Ventaxians one thousand years of peace and prosperity, at the end of which they were to become her slaves. This contract was officially dissolved during an arbitration conducted by Data in 2367. (TNG: "Devil's Due")
Ad blocker interference detected!
Wikia is a free-to-use site that makes money from advertising. We have a modified experience for viewers using ad blockers

Wikia is not accessible if you've made further modifications. Remove the custom ad blocker rule(s) and the page will load as expected.