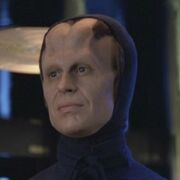 You may also be looking for DS9 actor Scott Thompson Baker or TNG actor Scott Thomson.
Scott Thompson (born 12 June 1959; age 58) is a Canadian comedic actor who played Tomin in VOY: "Someone to Watch Over Me".
He is perhaps best known for the Canadian sketch comedy series The Kids in the Hall. Nicole de Boer was a regular guest on that series and also appeared in the movie Kids in the Hall: Brain Candy.
Thompson was also a regular on The Larry Sanders Show with Penny Johnson and Wallace Langham. In the same year as his Star Trek appearance, he starred with Kate Asner in an episode of Jesse. Kevin Rahm was a regular on the series and Michael Welch appeared in three episodes.
External links
Edit
Ad blocker interference detected!
Wikia is a free-to-use site that makes money from advertising. We have a modified experience for viewers using ad blockers

Wikia is not accessible if you've made further modifications. Remove the custom ad blocker rule(s) and the page will load as expected.