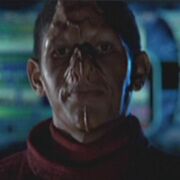 Scott Lawrence is the actor who played Garon in the Star Trek: Voyager seventh season episode "The Void". In 2013, Lawrence appeared as a section 31 operative aboard the USS Vengeance in Star Trek Into Darkness. He also performed a voiceover as Slovaak in the PC video game Star Trek: Away Team.
Lawrence appeared with many other guest players, including David Andrews, in his four years portraying Commander Sturgis Turner on JAG with Zoe McLellan and starred in Quantum Leap with Scott Bakula and Dean Stockwell. Another of his acting performances pertaining to Star Trek was his portrayal of an overzealous Trekker in an episode of Nurses.
Filmography
Edit
External links
Edit
Ad blocker interference detected!
Wikia is a free-to-use site that makes money from advertising. We have a modified experience for viewers using ad blockers

Wikia is not accessible if you've made further modifications. Remove the custom ad blocker rule(s) and the page will load as expected.