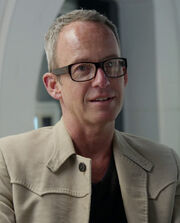 Scott Chambliss is a Hollywood film and television production designer who worked on Star Trek and Star Trek Into Darkness for producer and director J.J. Abrams. His work on Star Trek has earned him award nominations from the Art Directors Guild of America and the Washington DC Area Film Critics Association. Chambliss previously worked with Abrams on the hit TV shows Felicity and Alias as well as the 2006 Paramount Pictures release Mission: Impossible III. In 2010 Chambliss received a Saturn Award nomination for Best Production Design for his work on Star Trek. [1]
Chambliss began his career as an associate set designer on several Broadway productions. He then became an assistant art director on the films Scenes from a Mall (1991) and Malcolm X (1992, featuring Albert Hall, Tim Kelleher, James MacDonald, Christopher Plummer, Kate Vernon, and Craig Wasson).
As a production designer, Chambliss worked on such films as Chain of Desire (1992, starring Seymour Cassel and Malcolm McDowell), The Celluloid Closet (1995, featuring Whoopi Goldberg) and Krippendorf's Tribe (1998, featuring Stephen Root and David Ogden Stiers). He was also production designer for such television series Gideon's Crossing and Brothers & Sisters. He first worked with J.J. Abrams on Felicity in 2001.
Chambliss has received four Excellence in Production Design Award nominations from the Art Directors Guild and three Emmy Award nominations for his work on Alias, winning one from each (an Emmy in 2002 and a guild award in 2003). His Emmy Award win and nominations were shared with set decorator Karen Manthey, who also worked with Chambliss on Star Trek, as well as Krippendorf's Tribe and Mission: Impossible III.
Most recently, Chambliss worked on the action film Salt, starring Angelina Jolie. Robert Elswit was the director of photography on this film. More recently, Chambliss designed the feature film adaptation of the graphic novel Cowboys and Aliens. This film was co-written and produced by Alex Kurtzman, Roberto Orci, and Damon Lindelof.
External link