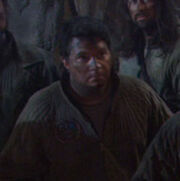 Scott Booker played a miner of the Orpheus Mining colony in the Star Trek: Enterprise episode "Demons". He received no credit for this appearance. His costume was later sold off on the It's A Wrap! sale and auction on eBay and previously worn by a stuntman in Star Trek Nemesis. [1]
Booker is the manager of the music band "The Flaming Lips" and appeared in this episode with fellow cameo performer Michael Ivins, a member of "The Flaming Lips", and his wife Jennifer Booker. He is a friend of Connor Trinneer and took the chance to play a role in Star Trek after he was invited by Trinneer. Booker is also the owner of the Hellfire Enterprises Ltd.
He also made a cameo appearances as a psychiatrist in the 2005 film Christmas on Mars. "The Flaming Lips" performed the soundtrack for this film. As manager of "The Flaming Lips" he is also a producer for several productions including the documentary Fearless Freaks in 2005 and the live concert special UFOs at the Zoo: The Flaming Lips Live in Oklahoma City (2007).
External links
Edit
Ad blocker interference detected!
Wikia is a free-to-use site that makes money from advertising. We have a modified experience for viewers using ad blockers

Wikia is not accessible if you've made further modifications. Remove the custom ad blocker rule(s) and the page will load as expected.